Agreements that are Required for Clinical Trials
AstraCrux assists pharmaceutical & biotechnology companies and CRO clients in finding prompt solutions to the contractual obstacles involved in running clinical trials and conducting research. We apply a pragmatic, solution-orientated approach to resolve any issues in our clients' projects.
Our contract specialists have science and law backgrounds and are among the most experienced across regions. In some cases, they have managed the delivery of over 1,000 Clinical Site Agreements (CSAs) per year while working for some of the world's biggest CROs.
Our approach covers the whole contract life-cycle. We minimize risks while increasing your profitability by accelerating negotiation timelines and enhancing the contracting process:
Please refer to the diagram below which summaries CSA process during the clinical trial start-up phase.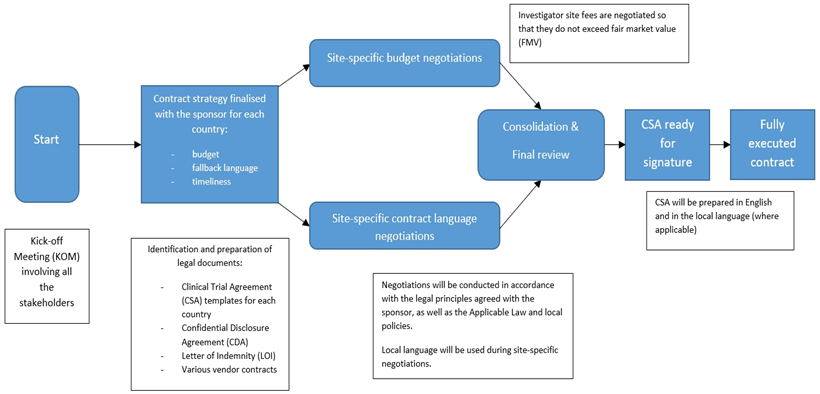 The diagram is for illustrative purposes only. We pride ourselves on a highly flexible approach and can adjust our negotiation strategies to suit the client's needs and goals.
Below is a summary of the services we offer.
Negotiating and drafting Clinical Site Agreements (CSAs)
Our contract specialists can assist in reducing timelines in the critical start-up phase by:
Applying their knowledge of the clinical trial industry and local business practices when negotiating CSAs and auxiliary contracts

On behalf of Sponsor/CRO, negotiating contracts with institutions directly, thus removing communication delays

Conducting all communication and negotiations in both English and local languages
Budget negotiations for Clinical Site Agreements (CSAs)
AstraCrux Clinical Trial and Consulting staff also have extensive experience negotiating clinical trial budgets. Our negotiators can:
Adjust their style and approach according to the negotiation styles employed by the parties

Implement strategies that are tailored to take into account any country-specific factors as well as the bargaining power of each party

Together with the client, determine appropriate investigator site fees for each country participating in the study
Drafting, Negotiating and Reviewing Related Agreements
Below is a list of agreements we can assist with, either as part of the CSA process or on stand-alone terms:
Master Service Agreements (MSA)

Confidentiality Disclosure Agreements (CDA)

Letter of Indemnity (LOI)

Key Opinion Leader Agreements (KOLA)

Contractor/Consulting/Services Agreement
Other Related Services
In addition to the services described above, we can offer you complete legal coverage through our international alliance network with local law firms. Please contact us for further information.